The 2022 Subaru Love Promise Customer and Community Commitment Award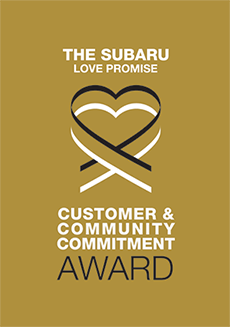 We've been nationally recognized for our dedication to our customers, our community, and the Subaru Love Promise.
We're honored to receive the 2022 Subaru Love Promise Customer and Community Commitment Award. This award nationally recognizes elite Subaru retailers who provide an exceptional customer experience at every interaction with Subaru. These retailers have also demonstrated an outstanding commitment to supporting passions and causes in their local communities in important areas such as the environment, community, health, education, and pets.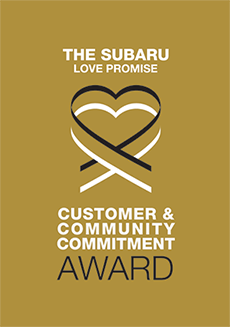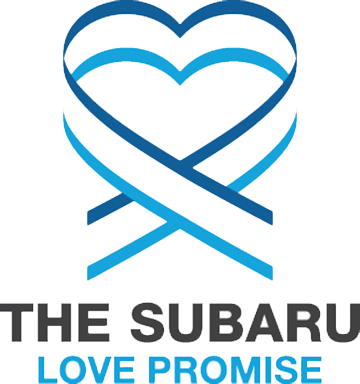 What is the Subaru Love Promise?
Subaru and our retailers believe in making the world a better place and the Subaru Love Promise is our vision of respecting all people. This is our commitment to show love and respect to our customers and to work to make a positive impact in the world.
How is Kirby Subaru of Ventura dedicated locally to the Love Promise?
Our Love Promise can be seen in various partnerships with local charities and non-profits. We're grateful for the opportunity, not only to be a part of our community, but to serve it as well.
Human Society of Ventura County
Interface Children & Family Services
Love Promise Stories from Kirby Subaru of Ventura
Subaru and Kirby Subaru of Ventura believe in making a positive impact on the communities in which we live and work. We uphold that belief through our Love Promise Community Commitment. Every month, we select inspiring stories from customers and partners from around our area who strive to support our collective commitment and feature them here
Our Teachers Receive Help Engaging Students - Carlos C
Dear Mr. Holley and Kirby Subaru Family, I hope that you are all doing great! We are looking forward to an exciting year! On behalf of the teachers and staff at De Anza Middle School of Technology and the Arts (DATA) Middle School, I want to express our gratitude for the generosity and "Community Love" Kirby Subaru and associates has showered on De Anza middle school through your AdoptAClassroom.org program and school donation. The teacher recipients of the AdoptAClassroom awards have created engaging project based lessons for their students, as well as enriched the art, music and coding programs they teach. The school wide donation will be used to provide more cross training for teachers and resources for new projects to keep the school rolling with this momentum. On a personal level, we were all moved with how thoughtful you and your team were in ensuring that our teachers and staff were recognized for their hard work and innovative teaching approaches. You and your team took the time to highlight them at a staff meeting with personal anecdotes, on social media with interview videos, and in front of district leadership. It's this type of thoughtfulness and caring for the community that demonstrates why you're such a great representative for Kirby Subaru and remains a leader in our community for sharing the commitment of making a difference. Again, thank you Mr. Holley and Kirby Subaru for your generosity to our school and the community. We wish you and the entire Kirby Subaru family much continued success and appreciate our partnership. Sincerely, Carlos V. Cohen, Principal
---
Love Promise Commitment Goes On The Road - Bruce H
My name is Bruce Holley and I live in Ventura California. Since 2014, I have been responsible for community events for the Kirby Subaru Dealership here in Ventura. I can honestly say that the Love Promise attitude is something I have complete respect for and therefore it fuels my everyday behavior, even when I am not in the office. Subaru of America, Inc. strives everyday to be a great corporate citizen. in turn, this philosophy extends out to every Subaru Dealership across the U.S.A. I remain full of gratitude and blessings to bring the Love Promise Commitment to our local "Subaru Community" and beyond. The Subaru Love Promise can include such things as: • Doing the right thing • Participating in charitable activities • Gathering a team of employees to help clean our beaches or hiking trails • Volunteering at our local food banks, non-profits, & painting a teacher's classroom • Volunteering to assist seniors to get them to their Dr. Appointments or complete their shopping The list can almost be endless, and Subaru knows corporate responsibility, done right, can drive brand loyalty. Being totally immersed in the Subaru love promise commitment, is more than a promise, it is an attitude that becomes you and is who we are. This past December I was in Boulder Colorado visiting my Mother. My sisters and I had decided it was time to move her into an assisted living home. With only 3 weeks to do the impossible, we had plenty of tasks, what with packing, donating clothes, selling items Mom had decide she no longer needed or wanted and moving furniture to storage, we had a busy schedule. I was moving the last few items on December 30th,2021 in a windstorm with gusts up to 95 MPH. I remember thinking at the time, how great to have moved all the big items as these winds are intense, like blow me over intense. Around 11 AM I could see incredible thick clouds of smoke. By 11 pm that night over 3000 homes were incinerated. The residences of those homes had thankfully escaped, however, there was absolutely no time to grab precious belongings. The next morning was New Year's Eve and we woke up to about 6 inches of snow on the ground and by noon it would total out at 10 inches, sadly 12 hours to late. (All numbers and times are approximants) Having been at ground zero when the fast-moving Thomas Fire raged through Ventura County at 100 yards every 3 seconds, I knew what was instore for all these evacuated people. This is when my Love Promise Commitment kicked in and drove me to the local Sam's Club. I had a list of necessary provisions from my retired Fire Captain friend and for the next 2 ½ hours I happily loaded 2 flatbed carts with heaters, clothes, socks, water, batteries, flashlights, energy bars, and more. The next day my sisters and I found the donation drop off center and when we were done unloading, we left with smiles in our hearts knowing we had done a good thing. Yes, I may have done this even if I didn't work for a Subaru Dealership, that's how we were raised, however, I can't help but think, Subaru's Community Commitment is so rewarding, wherever we live and whoever the recipient and it absolutely confirms my gratitude for Subaru's Love Promise philosophy. When I returned to Ventura in January, I decide to relate my story, to our owner, Jeffrey Sukay, where upon he promptly wanted the receipt, so he could reimburse me. I was NOT expecting anything like that, I was just glad to have been able to help. Mr. Sukay also has a very high Love Promise commitment and he was proud to be part of giving back. I now felt as though our entire Dealership had been "on the road" with me, giving back. Kirby Subaru, more than a Dealership, Subaru, more than a car company.
---
Holiday Toy Drive, A Spark of Love - Capt Mark L
On behalf of the Fire Departments of Ventura County, we want to thank Kirby Subaru for your Generous donation of over $2,000 for the 2021 Spark of Love Toy Drive, which is dedicated to helping our most vulnerable children experience a moment of joy during the holidays. Because of your gift and others, the 2021 Spark of Love Holiday Toy Drive was able to gift over 25,000 children with gifts for the holidays through over 75 non-profits and agencies, making it our most successful holiday giving campaign in 29 years. We also want to mention your dedicated event manager, Bruce Holley, who was at the donation site for over 14 hours at the Collection Shopping Mall and made numerous trips to the Fire Department collection center throughout December. This year was truly remarkable, with the pandemic impacting people's health and livelihoods, your kindness could not have been more appreciated. Thank you for being there for the children and families of Ventura County. It represented hope and demonstrated that someone cared about them-- gifts that will last long after the holidays. We are so grateful for Kirby Subaru.
---
A Love Promise Moment For First Time Buyer - Bruce H
From a Subaru customer who was so pleased with her first time car buying experience. Kyla L. 5 Star Yelp 2/27/22 This was my first time buying a car and the experience was wonderful. Our sales consultant, Bob Thacker at Kirby Subaru was extremely helpful. . (Bob Respected her first time visit to a dealership) I did not fell any sales pressuring at all, from Bob. (Bob established Trust) He definitely makes sure we left 100% satisfied! (Bob provided Appreciation) I also had a great experience with my financial consultant Adam Quinones. He was extremely helpful! (Adam gave Honesty during the Finance Process)
---
Subaru Loves A Marathon - Bruce H
When we say Kirby Subaru "Loves a Marathon", we wanted to share the following Love Promise Moment that defines that particular love. Two of our team members decided to run in the LA Marathon in November of 2021. Mike Greenslit, our General Sales Manager and Adam Quinines our Finance Director and joining them in training and the marathon would be Mike's son, Noah, and a family friend who is a frequent runner, Carlos Aries. This is not your 5k or even a half marathon, this is a big marathon, 26.2 miles. Discussing this with our carb stuffing team, they explained the two battles, that take place within us…..one is the body vs the mind. Is my mind "writing checks that the body cannot cash?" The second does "my soul have enough heart" to endure these last 7 miles? The Training began several months before the November event. First it was five miles, then seven, then nine, adding increments of 2 miles every week. When they reached the 18 mile mark, that mileage, became the goal at least 5 days a week. During their training, Michael and Adam learned that one of our Kirby Subaru team members, who has been with Kirby Subaru for 30 years, was enduring a different kind of marathon…… daily doses of chemotherapy to fight throat cancer. Add in a case of covid and our fellow employee had a REAL mind, body, heart, & soul battle that he was engaged in. This fight against cancer marathon would endure for 8 months and he was not able to work the entire 8 months. With the LA Marathon just 2 months away, Adam and Michael decide to ask for donations from our co-workers. One dollar per person, per mile was the agreed upon goal; with the caveat, "we had to finish" !! A real Love Promise and now the entire Subaru dealership was involved. Yes, all four of our Subaru team LA Marathoners finished!! Our Dealership raised over $6000 from our fellow employees and the Owner, Jeff Sukay, matched that for a total of over $12,000! Our teammate did in fact return to work the first week of January, cancer free and is trying to put back on the weight his chemotherapy treatments took away from him. His spirit is high and as for all of us, our hearts are smiling. Kirby shares so much love all year long with our Love Promise moments, which always gives us positive emotional rewards. Our LA Marathon athletes said the dollar per mile goal was what gave us "the strength and energy to win all our inner battles and cross the finish line." Kirby Subaru, since 1966, always MORE than just a Car Dealership.
---
Kirby Subaru Helping with The Houseless - Rod O
Ojai Valley Family Shelter provides advocacy for homeless persons and families in the Ojai Valley area of Ventura County, by encouraging and coordinating efforts to provide shelter and other services for those without adequate housing. They provide a safe, restful and clean environment in which to spend the night. Their volunteers provide homeless people with a hot meal, warm shower and clean sleeping space in the evening and a good breakfast the next morning. In an effort to help raise funds and awareness, Kirby Subaru supported their 14th Annual Golf Tournament which took place in September. This tournament raises a good portion of their annual budget and this year was no exception. A record number of golfers participated and plenty more community members came out in support – enjoying the luncheon and the live auction. Kirby Subaru brought out volunteers to help and hosted the luncheon for all, allowing the participants and guests to focus on donating to this worthwhile philanthropy. Kirby Subaru is so proud to be able to support the Ojai Valley Family Shelter and look forward to continuing our support of their annual golf tournament for years to come. Please see the 2 minute video about the Ojai Family Shelter at Kirbysubaruofventura.com To learn how you can donate or volunteer with Kirby Subaru please go to ojaivalleyfamilyshelter.com
---
10th Annual Can Tree - Jennifer C
Over the past long, difficult months, food banks across the nation shared one mantra "Better Together". Together with supporters like Kirby Subaru, Food Share has brought in and distributed more food than ever in our 43-year history. Together we fed double the number of people than the year before. Together worked to make sure that no one in Ventura County went hungry. The donation match you instituted with Subaru Service clients, combined with Food Share as one of your Hometown Charites and now it is time for our very own "Build-A- Can-Tree, will put Kirby Subaru donations at over $20,000. Our 10th annual Can Tree build begins December 9th-12th in Downtown Ventura. It was so wonderful to have the Kirby Subaru President, Jeff Sukay, and members of his team here at the Food Share warehouse to help us prepare to build over 300 trees, in 3 days.. It is a huge project, and many hands make light work. Food Share is now feeding over 120,000 people every month in Ventura County and together, Kirby Subaru DEFINES the "Loves to Help" slogan. Thank you, thank you, thank you.
---
94 Year Old Double Military Widow Left Homeless - Robert H
At age 94, Rose Burgess had already lost two military veteran husbands and was legally blind. Her Daughter had just recently died unexpectedly, and she would soon have no place to live. When she walked into the police station, she had nowhere else to go. Homelessness for anyone is very dangerous, for a 94-year-old widow, it could be a death sentence. As Executive Director of Gold Coast Veterans Foundation, (GCVF) we have numerous resources to help Rose, so she did not "fall through any more cracks." 12 Social Services agencies had already denied or refused her help. We begin the enormous task of condensing and eventually her financial obligations. We first eliminated her storage expense, found a buyer for her trailer, and located a senior living apartment for Rose. The Case manger took Rose and her Subaru into Kirby Subaru here in Ventura and explained the situation. The staff were incredibly kind and knew immediately what they wanted to do. They took back the vehicle, waved all the late fees and early termination expenses. Another financial obligation was crossed off the list. On November 9th, 2021, the "successful rescue of Rose" was chosen by our County Board of Supervisors to honor all those who participated in this moment of inspiration, 12 supporters in all. Their intention was to bring attention to all partners who provided financial and program support, . Our partnership with Kirby Subaru played a critical role bringing this life saving program to life. Bruce Holley, Event CEO, and a Navy Veteran, for Kirby Subaru, presented Rose with her very own envelope of gift cards. She told Bruce that she will be "buying some much needed personal items and one item I want is a new wristwatch. Whenever I look at my watch, I will think of the wonderful kindness I received from Kirby Subaru." This "successful rescue" brought Kirby Subaru and GCVF together and we know this will not be the last, as Bruce & I discussed, we think this is the beginning of a beautiful working relationship. One more "loves to…." Can now be added to the Subaru Love List, "Kirby Subaru Loves our Veterans." Thank you, Kirby Subaru, you answered our call of: "All Hands on Deck!" For more information how you can help homeless veterans, please visit www.GCVF.org
---
Subaru & Door Dash Deliver Food to Pets' Homes - Audra L
The pandemic created a thriving economy for man's and woman's best friend. SO much so that shelters either ran out of pets to adopt or had very limited choices. As we begin to open, families continue to be faced with the uncertainty of; returning to a pre-covid salary, finding work that will match their budget, or being evicted. All this uncertainty is impacting animal shelters in terms of pets being returned, our staffing, and volunteer support. The Humane Society of Ventura County receives funds through philanthropy, period. That's it. There are no federal or state or county dollars that support our shelter operations. With the lock downs, fund raising events have been restricted and volunteer help has been limited, of which we rely on heavily. Even with this economic insecurity pet owners want to keep their pets. We discovered a solution for our local community. To deliver pet food to peoples' homes. With the help of Interface 211 here in Ventura and Door Dash, we are delivering dog and cat food to families who want to keep their animals, however, they do not have the budget to purchase pet food. Kirby Subaru is helping us reach some of our most vulnerable populations in Ventura and Oxnard. This is a pilot program, as with any new "system" there are going to be hurdles. The flexibility of the Kirby Subaru staff and their willingness to help us perfect this new "system" and make this a fine-tuned reality makes for a new segment of "Subaru Loves Pets." Together, we ARE helping keep animals in their homes and out of shelters. Our shelter is the recipient of the "stuffed" Outback doggie toys, the "Bark Box New Parent Kits", food donations and more. Yes, Subaru Loves Pets, Kirby Subaru may just love them a little more. They are keeping countless "Underdogs" and cats in their homes. Thank you!!
---
A Hand Up With Kids - Cynthia L
Kirby Subaru of Ventura has shown an exceptional commitment to partnering with The River Community Church through their "Loves to Care" program. For people who experience life altering circumstances, it is always difficult to find their way back to some sort of normalcy. During these uncertain and very unsettling times, these very same struggles that families are enduring are amplified. Bruce Holley and his team recently dropped off 10 boxes of home essentials such as, cookware, dishes, bedding, towels and curtains which were much needed items for our latest apartment through the County Family Emergency Shelter that will house another homeless family, a single Mother and her 2 boys, under 13, within the next few weeks. Kirby Subaru was there this past spring with the blankets for our homeless and now, here they are again, giving a hand up and putting families back together. Thank you Kirby Subaru for all that you do to support The River Community!
---